To edit your contract details (the "Contract Page 1") in the documents, navigate to Admin > Documents > General Documents. I have created a blank document for you with the signature box called "Contract Details". Click on the "Contract Details" page to open the editor:
Note: Do not change the "Name" of the document or you will break the contract. Leave it as "Contact Page 1".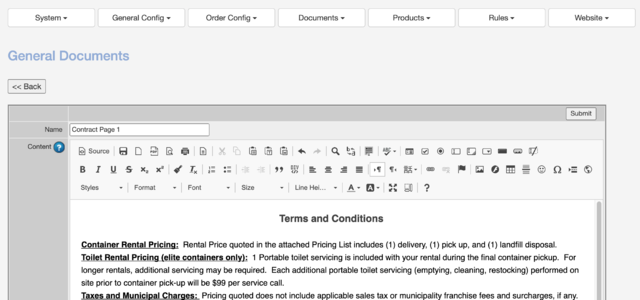 Formatting
Within the editing box, you can copy and paste over your existing contract information. There is a built in formatting tool located at the top of the box. Hover over each of the icons for a few seconds for more information. I also recommend checking the arrows next to "Styles", "Normal", etc. for more options.

Editing and formatting can be tricky. We cannot offer much assistance as the formatting can vary and be affected differently depending on what's viewing it; Whether that's an email client, a phone, a website, etc. You are welcome to test. I recommend having the Dispatch Tab open on a new screen and using the black and white clipboard icon to open an example contract on an existing orders. Once you have saved or submitted your changes, you can refresh the page and it will immediately update. We cannot offer additional coding assistance or specific formatting help if you're running into issues. Instead we recommend trying to format it differently as maybe a paragraph, table, bullet points, etc.