You can configure how far in advance orders must be placed for your online customers. To change this duration, please see the following article:
Minimum Advance for Booking
. This article will walk you through changing your Short Notice Message and how to set up Text Message Alerts for last minute orders!
---
1. Change the "Short Notice Message" for your Online Orders:

When customers are placing an order online, there is a "Short Notice" message that appears and is customizable. A "Short Notice" order is any order less than 24 hours in advance. To edit the notification for a short notice rental or a next day rental, perform the following:
Navigate it Admin > General Config > Misc Settings.
Enter the message you would like to use in the following field: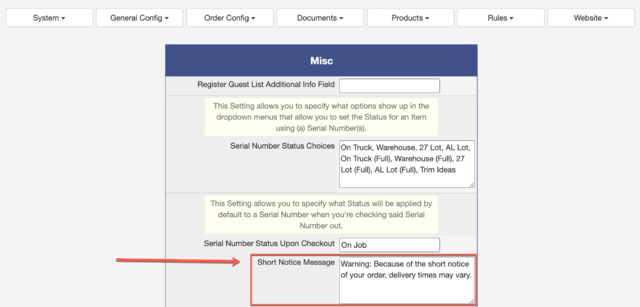 ---
2. Configuring Text Message Alerts for Short Notice Orders
1. Navigate to "Admin" and click "Start Setup Wizard":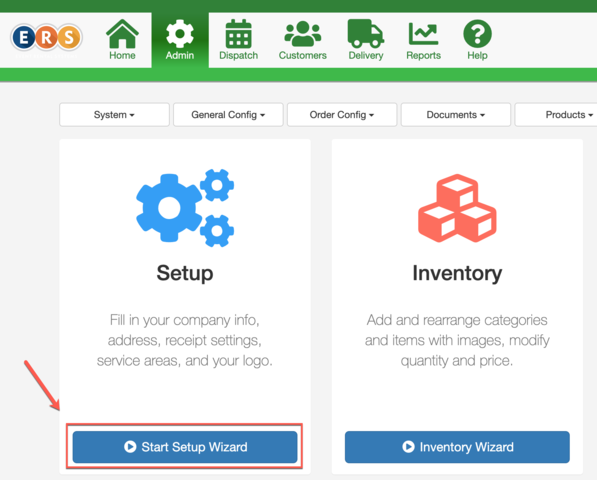 2. Click "Receipt Settings" to access the text messaging alerts area.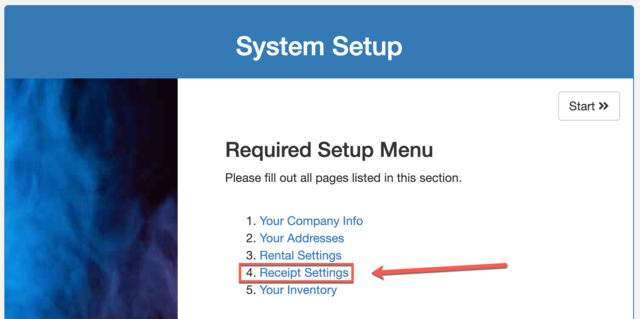 3. Add and save any numbers you would like to receive text messages for orders. This only applies for orders within a 24-hour window. There is no current way to modify the timeframe for short notice alerts. A"Mobile Carrer" such as Verizon or AT&T is required to receive any text alerts in our system (This is also true of any User Set Up in Admin > General Config > Users). Once numbers have been added and you click "save", then they will begin to get notifications. Click the "Trash Can" icon to delete numbers.