Dumpster Rental Systems offers our own Payment Gateway solution called DRSPay that directly integrates with our software. Because we own the service, we can offer great rates and stay competitive. Additionally, we provide in-house Technical Support and a completely streamlined interface. You do not have to leave our system to manage your account, reconcile your reports, or process payments.
Application Link: https://merchantapp.io/drspay
DRSPay Overview:
$0 Monthly Fee.
Annual PCI Compliance Fee of $99 is waived for all DRS Customers.
2.89% plus .20 per transaction.
Swipers sell at $153 each plus $40 shipping and handling.
Chargeback Fee: $25 Per Item
Reconcile directly from your DRS CP (Control Panel).
Retains "Card on File" for future orders (not available with other integrations).
Direct Single Sign-on merchant portal in your DRS CP (not available w/other integrations).
Tier 1 Support provided by our own Event Rental Systems' Technical Support team.
Virtual Terminal within your DRS CP.
Discount on our email marketing service called ERSMail.
Apply Now: https://merchantapp.io/drspay
Note: Please check your email, including your spam folders, during the application process in case additional information is requested. Click here for a detailed guide on completing the application.
---
Virtual Terminal
The Virtual Terminal is an added feature benefit of having DRSPay. The Terminal allows you to charge a credit card independent of an order. Simply click on the "Virtual Terminal" from the Home page of your Control Panel:

Once an amount is entered, complete the form to complete the payment:

---
DRSPay Reports
All pertinent data is available to you 24/7 within the DRS Control Panel. These reports are located under the "Reports" tab under "ERSPay Reports":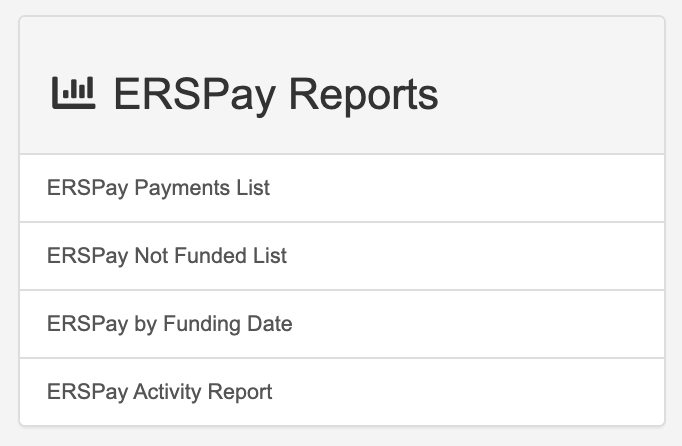 Additional DRSPay Report information will be covered in a separate Knowledge Base article. Please contact the DRS Technical Support Team with any questions or concerns in the meantime.