From the DRS Driver App, employees have the ability to take photos that will automatically be uploaded and associated with an order. Additionally, you can include these images in your order receipts. This is recommended for our dumpster clients when taking pictures of landfill receipts.
To take or upload a photo from the DRS Driver App:
Click the 3 lines in the top left to access the menu.
Click "View Load Sheet" (drivers will only be able to see load sheets for routes/orders that have been assigned to them).
Tap the calendar icon to select the date of the order.
Click the order number (i.e. "Order #123") and select "View order #..."
Near the top of the screen underneath the order number will be four icons; the third is for photos. Click on the icon.
Choose between "Take photo with camera" and "Add photo from library".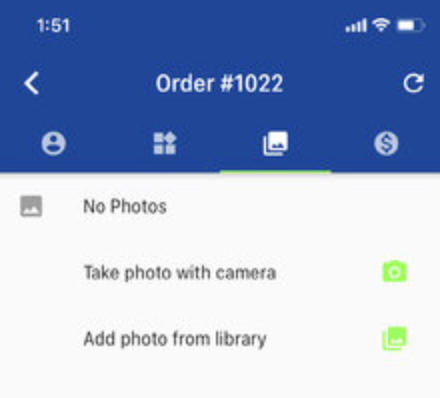 Once the picture is taken, or uploaded, it is automatically associated with that order. You can include these images in your receipts by using the following merge field in your "Receipt" or "Virtual Terminal Receipt" under Admin > Documents > General Documents:
[option:event_images]
If there are no photos or images associated with the order, then nothing will appear from the merge field. Images will only display if they exist.